KCT inside | WiFi6 Game Router: Switch PS4 Xbox one's Game Essentials
Release time:2021-05-07 23:21:10Hits:
After the development of 2020, whether it is the terminal phone, notebook or broadband, have been done to enter the era of WIFI 6. Between us and the new era of WIFI 6 is only the router, the bridge between broadband and terminal equipment. These days, we just got a ASUS' WIFI 6 game router RT-AX56U youth edition, so we will use it to see which the improvements can WIFI router bring to us?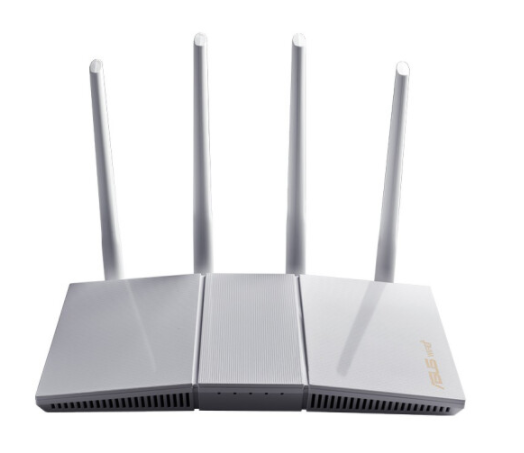 ASUS WIFI 6 game router RT-AX56U youth version, with most of the cool wind of the e-sports equipment different, its "crescent white" color and simple atmosphere of the design language, so that it can be suitable for most users of the home style, but the whole machine does not use the traditional leveling design, but split the fuselage into three sections, no matter from which point of view, are like a very science fiction "alien spacecraft," the traditional antenna design also shows its simple and traditional design concept. At the same time, four standing 5dBi high gain antennas also show its impressive signal performance.

ASUS WIFI 6 Game Router RT-AX56U Youth Edition, equipped with a Broadcom quad-core high performance processor, its data grabbing capacity is two times that of other platforms, computing power as high as 16500 +. With the Archer hardware engine, the processing power of the CPU is always maintained at its best.

KangXi Communication Technologies' RF chip products 4-way independent PA + LNA signal amplifier and power amplifier built-in, with AiRadar intelligent radar directional transmission, the network signal can be transmitted farther in 2.4 / 5 GHz band, and the ability of crossing walls is stronger.

ASUS RT-AX56U Youth Edition Gaming Router with WIFI 6 technologies, Maximum Network Transfer Rate up to 1800 Mbps, the network speed takes off directly, and this version of the router concurrent with up to 200 +, designed multi-person open black tool OFDMA orthogonal frequency division multiple access technology and MU-MIMO technology. Simply said, OFDMA orthogonal frequency division multiple access technology and MU-MIMO technology is to broaden the transmission channel, can provide smooth network transmission for multiple clients. If traditional routing is used, it can cause network congestion when multiple people use the same router, when using OFDMA and MU-MIMO technologies router, N devices can use high-speed network at the same time, multiple family members can use the network simultaneously without Caton phenomenon. This configuration can be easily handled whether multi-device access or at the same time multiple devices access, ensure that the full network speed full-time online. Accelerate for online games can also accelerate for your console games, supporting mainstream games Switch, PS4, Xbox one and so on.

As a beautiful and a high performance router, ASUS WIFI 6 Game Router RT-AX56U Youth Edition is equipped with high quality and cost-effective WIFI 6 PA + LNA low noise amplifier and power amplifier from KangXi Communication Technologies, it's apply to the smoothly game under Switch, PS4, Xbox one, which can called the games essentials. Are you interested in this outstanding performance router?

---